Blogshare Post of the Day – Dec. 17th
So, have you planned your Christmas Eve  Dinner yet? Every year it seems many families recreate the same Christmas Day menu's however they forget to plan
anything for Christmas Eve Dinner. 
What is on your menu this year?  
May I suggest a Southwestern Theme for this year's Christmas Eve Family Dinner?  How about making Christmas Eve a Taco Night?  Taco's are easy to prepare and something that will keep if you go to an early church service on December 24th or got home late after last minute shopping!  If you are having company for the Holidays a Taco Dinner is always fun!  Everyone loves an easy taco dinner! The Junkyard Taco, Southwestern Corn & Black Bean Salad and Strawberry Mango Margarita Compotes will be sure to have your Christmas Eve Taco Night Dinner bursting with South-of-the-Border flavor.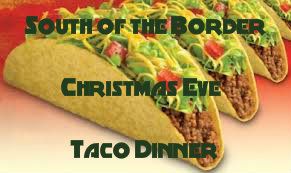 The Junkyard Taco
INGREDIENTS
12 Crispy Taco Shells,
Lean & Spicy Taco Meat (recipe follows)
3 cups shredded romaine lettuce
3/4 cup shredded reduced-fat Cheddar cheese, (3 ounces)
3/4 cup diced tomatoes
3/4 cup prepared salsa
1/4 cup diced red onion
PREPARATION
To assemble, fill each taco shell with (in any order): a generous 3 tablespoons taco meat, 1/4 cup lettuce, 1 tablespoon cheese, 1 tablespoon tomato, 1 tablespoon salsa, 1 teaspoon onion.
LEAN AND SPICY TACO MEAT
INGREDIENTS
8 ounces 93%-lean ground beef
8 ounces 99%-lean ground turkey breast
1/2 cup chopped onion
1 10-ounce can diced tomatoes with green chiles, I prefer to use the Rotel brand, or 1 1/4 cups petite-diced tomatoes
1/2 teaspoon ground cumin
1/2 teaspoon ground chipotle chile, or 1 teaspoon chili powder
1/2 teaspoon dried oregano
PREPARATION
Place beef, turkey and onion in a large nonstick skillet over medium heat.  Cook, breaking up the meat with a wooden spoon, until cooked through, about 10 minutes.  Thansfer to a colander to drain off fat.  Wipe out the pan.  Return the meat to the pan and add tomatoes, cumin, ground chipolte (or chili powder) and oregano.  Cook over medium heat, stirring occasionally, until most of the liquid has evaporated, 3 to 6 minutes.
Make Ahead Tip:  Cover and refrigerate for up to 1 day.  Reheat just before serving.
Tip:  Look for Rotel brand diced tomatoes with green chiles – original or mild, depending on your spice preference – and set the heat level with either ground chipolte chile (adds smoky heat) or chili powder (adds rich chili taste without extra spice).
Southwestern Corn & Black Bean Salad
INGREDIENTS
3 large ears of corn, husked

1/3 cup pine nuts

1/4 cup lime juice

2 tablespoons extra-virgin olive oil

1/4 cup chopped fresh cilantro

1/2 teaspoon salt

Freshly ground pepper, to taste

2 15-ounce cans black beans, rinsed

2 cups shredded red cabbage, (see Tip)

1 large tomato, diced

1/2 cup minced red onion
PREPARATION
Bring 1 inch of water to a boil in a Dutch oven. Add corn, cover and cook until just tender, about 3 minutes. When cool enough to handle, cut the kernels from the cobs using a sharp knife.

Meanwhile, place pine nuts in a small dry skillet over medium-low heat and cook, stirring, until fragrant and lightly browned, 2 to 4 minutes.

Whisk lime juice, oil, cilantro, salt and pepper in a large bowl. Add the corn, pine nuts, beans, cabbage, tomato and onion; toss to coat. Refrigerate until ready to serve.
Make Ahead Tip: Cover and refrigerate for up to 1 day.
Strawberry-Mango Margarita Compote
INGREDIENTS
2 cups halved or quartered hulled strawberries

2 cups diced mango, (2 small or 1 large)

2 tablespoons sugar, or to taste, plus more for dipping

1 teaspoon freshly grated lime zest

2 tablespoons lime juice

1 1/2 tablespoons tequila

1 1/2 tablespoons Triple Sec, or other orange liqueur
PREPARATION
Place strawberries, mango, sugar, lime zest, lime juice, tequila and liqueur in a large bowl; toss gently to combine. Let stand for 20 minutes for the flavors to meld. If desired, serve in margarita glasses: rub the rims with additional lime juice and dip in sugar, then spoon in compote.
Make Ahead Tip: Cover and refrigerate for up to 4 hours.
Today's giveaway items were reviewed by

Parga's Junkyard

.  
See the product review for the Fog Free Shower Mirror

HERE

.  
See Mama Mahoney Creations "On My Own" Tote Product Review

HERE

.
Enter to win a different prize each day, from Nov. 29th through Dec.24th,
with the 25 Days of Christmas Blogshare Giveaways!
Each day we will be highlighting a post from one of our amazing blog partners.
Look for the link daily that will take you to the blogshare post of the day.
By clicking on the daily link you will find the rafflecopter form to enter
each of the 25 Days of Christmas Giveaways!